The project
Across central and eastern Europe, the Balkans, central Asia and the Caucasus, and the Middle East, bygone imperial projects are increasingly inseparable from contemporary political, social, and cultural life. From gargantuan statues to pocketsize tchotchkes, embodied in both rose-tinted visions of imperial multiculturalism and the persistent anxiety and loathing of post-imperial nationalisms, the empires of the past exert pressure on the present, even as they respond to the present's demands.
The research project REVENANT (Revivals of Empire: Nostalgia, Amnesia, Tribulation), based at the Department of Cultural Studies, of the Faculty of Humanities and Social Sciences, University of Rijeka, and supported by ERC grant #101002908, seeks to examine contemporary collective memories and legacies of the Habsburg, Ottoman, and Romanov Empires from a capacious, comparative, and interdisciplinary perspective. Designed and coordinated by Dr. Jeremy F. Walton, REVANANT constitutes the first comprehensive research project to grapple with these complex, overlapping post-imperial memories and legacies.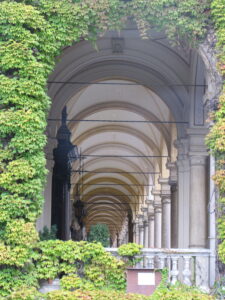 REVENANT pursues two overarching research questions. First, how do collective memories of the Habsburg, Ottoman and Romanov Empires achieve articulation through ensembles of persons, places and things? Secondly, how do imperial legacies complicate and contradict the personifications, emplacements, and materializations of post-imperial memories? The threefold heuristic of persons, places, and things determines three secondary research questions. First, how and why do certain historical personages galvanize collective memories of empires? Secondly, how do specific places become sites of post-imperial memory, while other loci of imperial legacies escape commemoration? Thirdly, how are bygone empires embodied through a variety of objects and material culture? The sites, cities, and regions that orient REVENANT span a vast geography between the Alps and the Urals, the Baltic and the Aegean. They include the former imperial capitals of Vienna, Istanbul, and St. Petersburg; post-imperial port cities such as Rijeka, Thessaloniki, and Odessa; and the erstwhile borderlands of the Balkans, Bukovina and Galicia, and the Caucasus.
Interdisciplinarity is a key supplement and complement to REVENANT's plural geographical and historical foci. Our research will draw on the insights and perspectives of Anthropology, Art and Architectural History, Comparative Literature, History, Material Culture Studies, Memory Studies, Political Science, and Sociology. Accordingly, it will rely on a variety of methods, including participant observation, visual ethnography, archival research, targeted interviews with key actors, and discourse analysis. Finally, one of REVENANT's central aspirations is to foster new scholarly professional relationships across these post-imperial regions, with an eye to the multiple ways in which their intersecting pasts might shed new light on shared futures.
The principal investigator
Dr. Jeremy F. Walton, the principal investigator for REVENANT, is a cultural anthropologist whose research resides at the intersection of memory studies, urban studies, the comparative study of empires and imperialism, and critical perspectives on materiality. Currently he leads the Max Planck Research Group, "Empires of Memory: The Cultural Politics of Historicity in Former Habsburg and Ottoman Cities," at the Max Planck Institute for the Study of Religious and Ethnic Diversity. Dr. Walton received his Ph.D. in Anthropology from the University of Chicago in 2009. His first book, Muslim Civil Society and the Politics of Religious Freedom in Turkey (Oxford University Press, 2017), is an ethnography of Muslim NGOs, state institutions, and secularism in contemporary Turkey.
Prior to his current position, he held research and teaching fellowships at the Center for Advanced Studies of Southeastern Europe at the University of Rijeka, the CETREN Transregional Research Network at Georg August University of Göttingen, Georgetown University's Center for Contemporary Arab Studies, and New York University's Religious Studies Program. He has published his research in a broad selection of scholarly journals, including American Ethnologist, Sociology of Islam, The Cambridge Journal of Anthropology, Die Welt Des Islams and History and Anthropology. He is also the co-editor of several volumes, including Anthropology and Global Counterinsurgency (University of Chicago Press, 2010) and Art and Politics in the Modern Period (University of Zagreb Faculty of Humanities and Social Sciences, 2019). A full roster of his publications is available on his academia.edu webpage. "Empires of Memory," which Dr. Walton designed, is an interdisciplinary, multi-sited project on post-imperial memory in post-Habsburg and post-Ottoman realms. REVENANT will both continue and expand the commitments and concerns of Empires of Memory.